Tenugui is a really useful item for mountain climbing and camping.
Mihoko Mori, the designer for the outdoor brand "and wander" and avid mountain walker in and outside Japan for over ten years, has told us how Tenugui can be used other than for wiping away sweat and why it is often used also in other outdoor activities.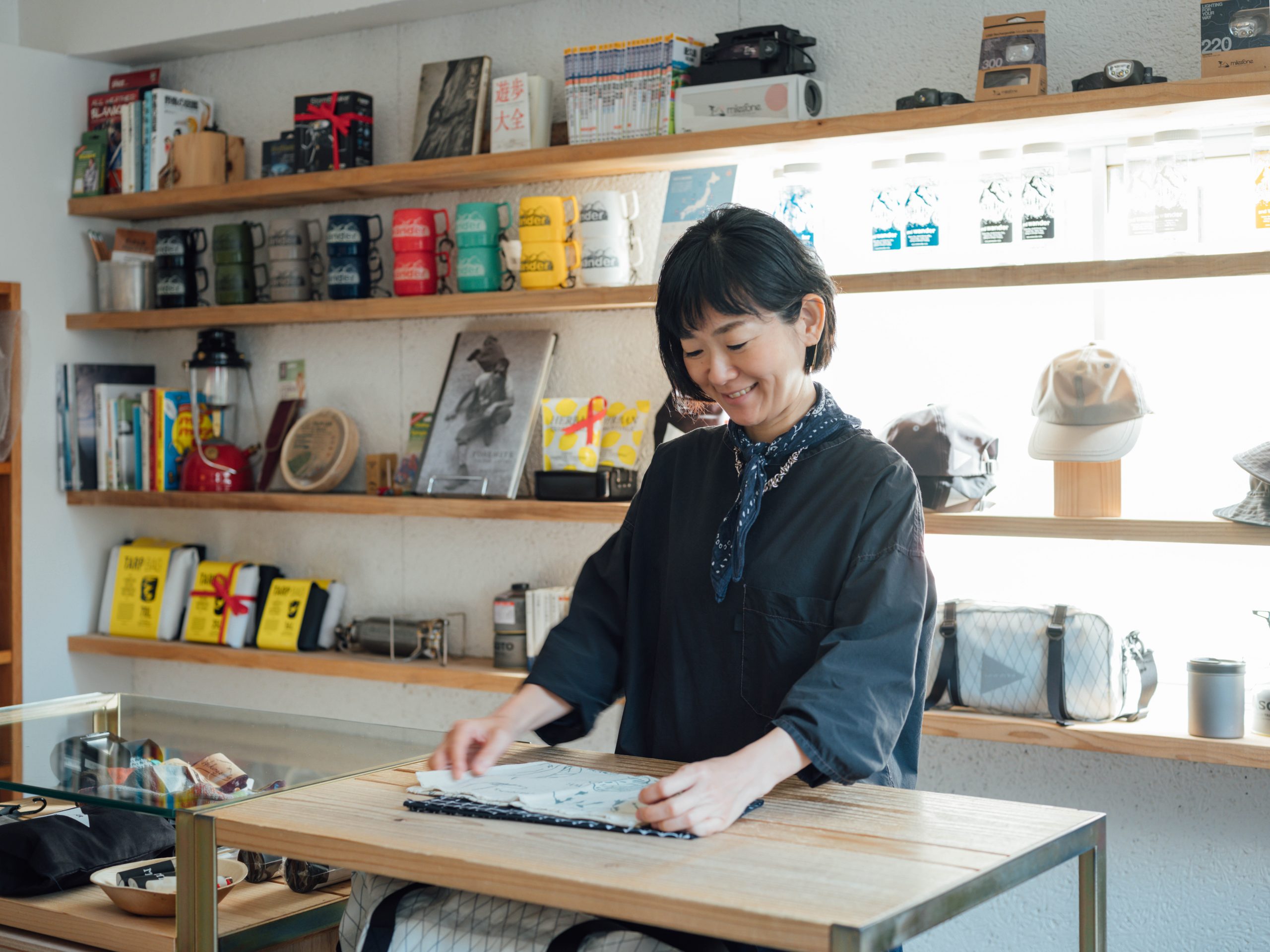 Mihoko Mori is the designer of the outdoor fashion brand "and wander," who became an enthusiastic mountain climber after trying it out with her friend over ten years ago. She has enjoyed the great outdoors, going on day-trips to Japan's Southern Alps and Yatsugatake Mountains or venturing on multi-day walks on the John Muir Trail and the Big Bend National Park in the United States and even the Tour du Mont Blanc in France.
When going on a multi-day mountain walk, she has to pack change clothes, water, foods, tent, sleeping bag and everything she would need on the mountains and carry them throughout the walk.
"The most I could carry is about 13 kilograms. There are tracks that have no drinking water or kiosks along the way, and I therefore cannot cut back on essential water and foods. Instead, I must reduce clothes or tools to take as much as possible. The lesser you carry, the easier your walk will be. You might even be able to take a camera, drawing paper, pens and other hobby items. Having a lighter load allows you to enjoy mountain walking exactly as you want."
Be it a day trip or a multi-day walk, she tries to keep her luggage to the minimal so as to make her walk comfortable. She not only eliminates non-essential items but also opts to choose clothes, tools and climbing gear that weigh less. It is her absolute theory to keep luggage light and compact when going on outdoor activities, especially a trip that involves a long distance walk.
The outdoor environment is subject to changeable weather, which means your clothes must be fast-drying. Otherwise, you would feel uncomfortable after you sweat or get wet in rain, as moisture takes body heat away to potentially cause hypothermia. Her brand "and wander" is constantly working on developing materials, design and sewing techniques that make its outdoor clothes and equipment lightweight and fast-drying.
For packs, the brand uses the ultra-lightweight material called Dyneema Composite Fabric, often used for sails for sailing boats for its advanced waterproof property and tear resistance. Packs sport a minimalistic design, eliminating covers and pockets as much as possible, to keep them light so that people even forget they are carrying it on their back.
Previously, mountain trekkers who carry heavy luggage often chose weighty leather high-cut shoes for stability. Nowadays, lightweight low-cut hiking shoes have become a popular choice. They often feature a membrane made of GORE-TEX®, a waterproof, breathable and highly durable material, to create a hard-wearing and moisture-resistant shoes. Technological advancement over the last few years has been quite remarkable.
For windbreakers and pants, the brand uses Pertex, a technical material created with cutting-edge research for lightweight, fast-drying and tear-resistant properties that keep it intact even when the fabric catches on a twig or gravel.
Mori uses all these items herself. "I wear our products and go walking in the rain or climbing over rocky terrains. I find a lot from using the products first-hand, and reflect the findings to future designs or choice of materials."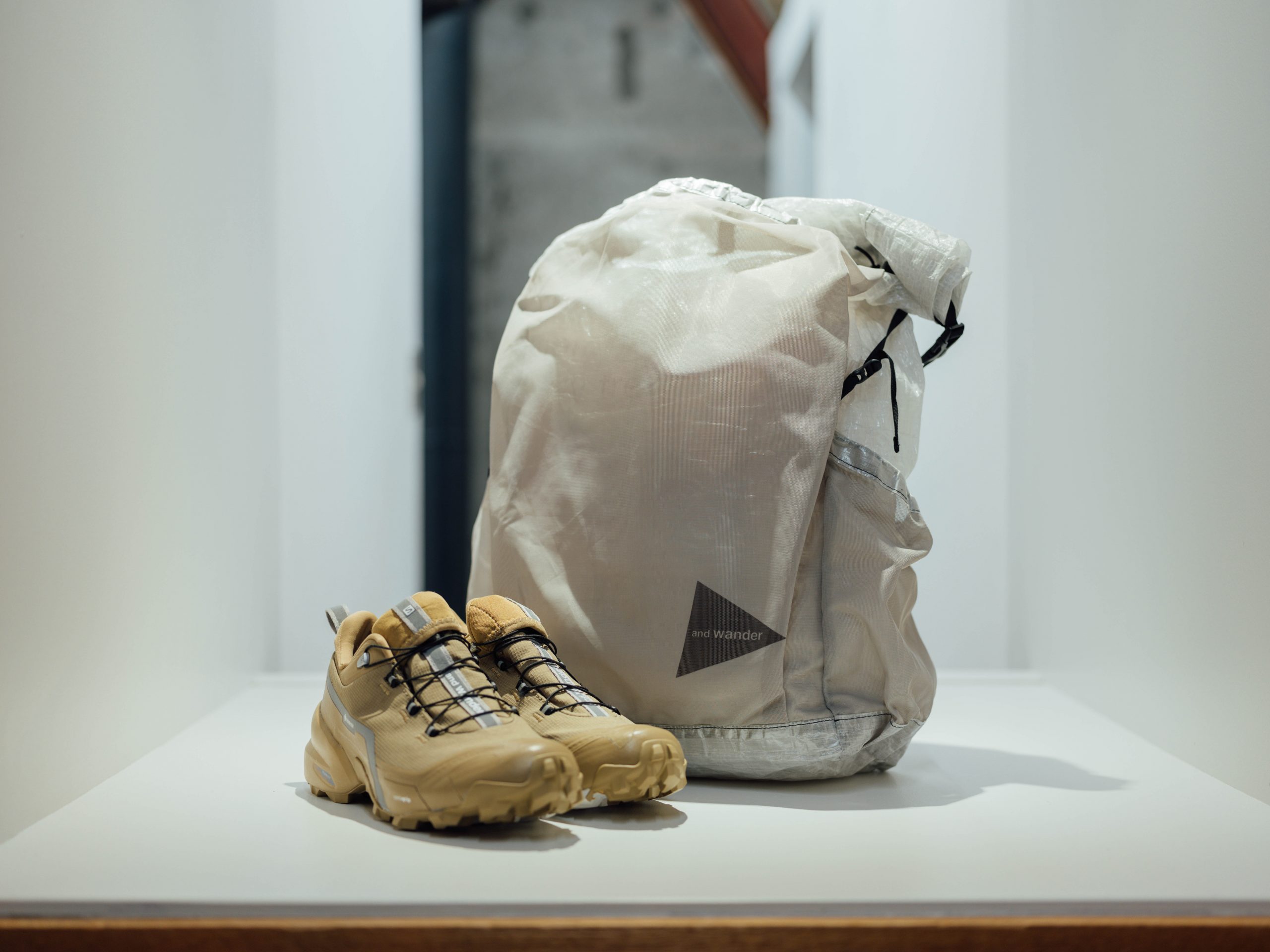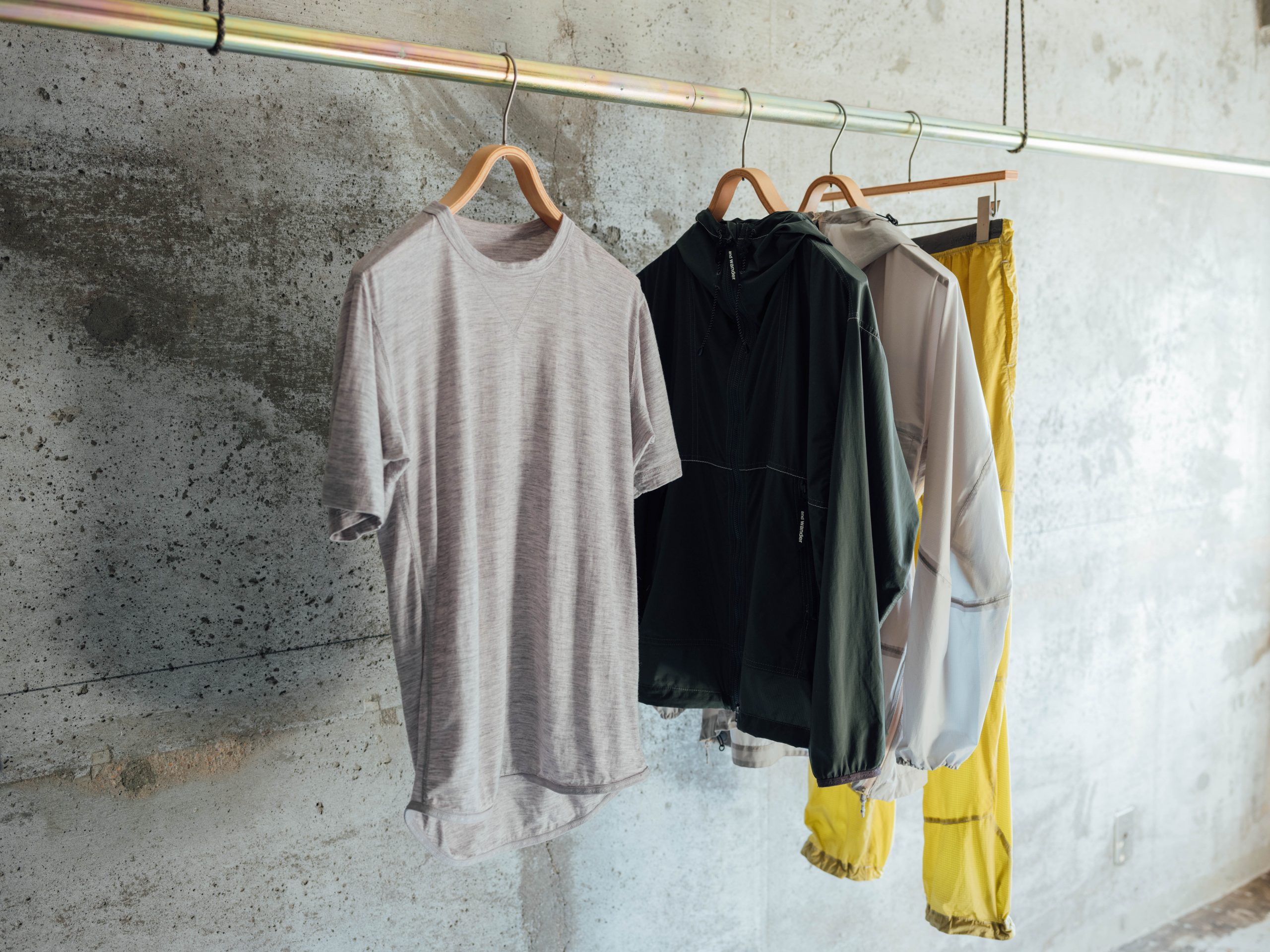 Outdoor clothes and gear continue to evolve, as users appreciate these latest materials and functionality. Another item that many mountain climbers continue to love is Tenugui.
Tenugui carrying various patterns are sold also at "and wander" stores. Outdoor trekkers use it to wipe away sweat or wrap it around the neck or drape it over the head for sun protection. Mori says she often use Tenugui as a pillow cover when staying at a mountain hut, or as a towel after dipping herself in a hot spring spa after a long day of trekking.
"Tenugui has raw-cut ends, preventing any moisture buildup at the corners and making it very quick to dry."
Towels are bulky, however thin they may be. In contrast, Tenugui is very appealing because it is compact, highly absorbent and fast-drying due to its design, even if it is made of cotton.
Mori's favorite Tenugui was purchased at Kamawanu's Asakusa store at the time of the store's mountain-themed event. It features various mountain-themed illustrations, drawn by the mountain-loving illustrator, Megumi Ochiai.
"It's more than five years old, looking worn out and faded. I still use it often because I love the worn look."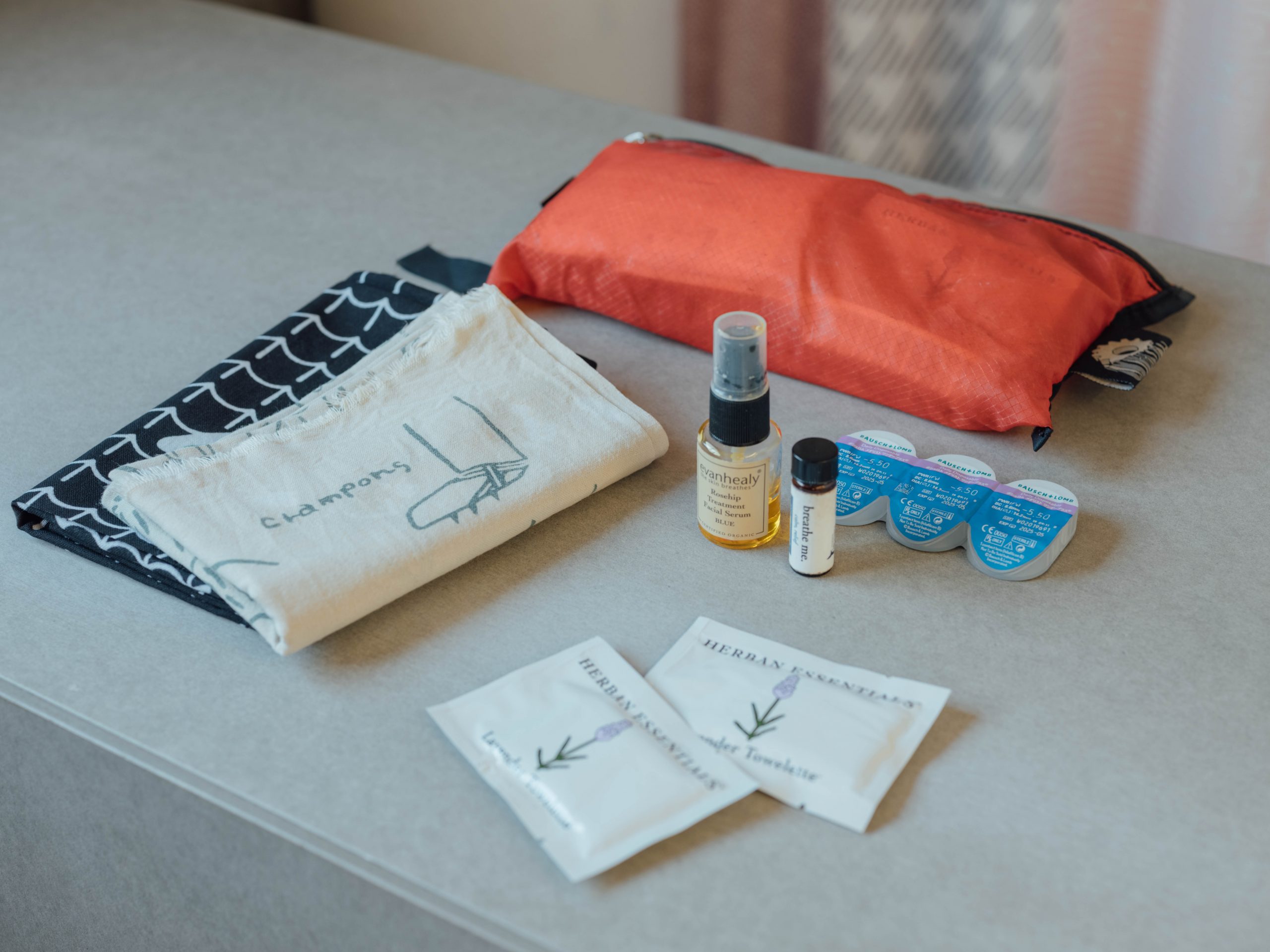 She often buys Tenugui as a gift for her friends as it can be used not only in a tough natural environment but also in a variety of other outdoor situations such as camping and marathon.
"Mountain huts often sell individually-designed Tenugui, a perfect souvenir because of their unique patterns. They are quite affordable, too. It is fun collecting Tenugui from different mountainous regions and mountain huts."
Tenugui is light, convenient, fast-drying, functional and comes in designs that entices you to start a collection.
"Tenugui has so much appeal packed into such small area. That makes them so special," says Mori.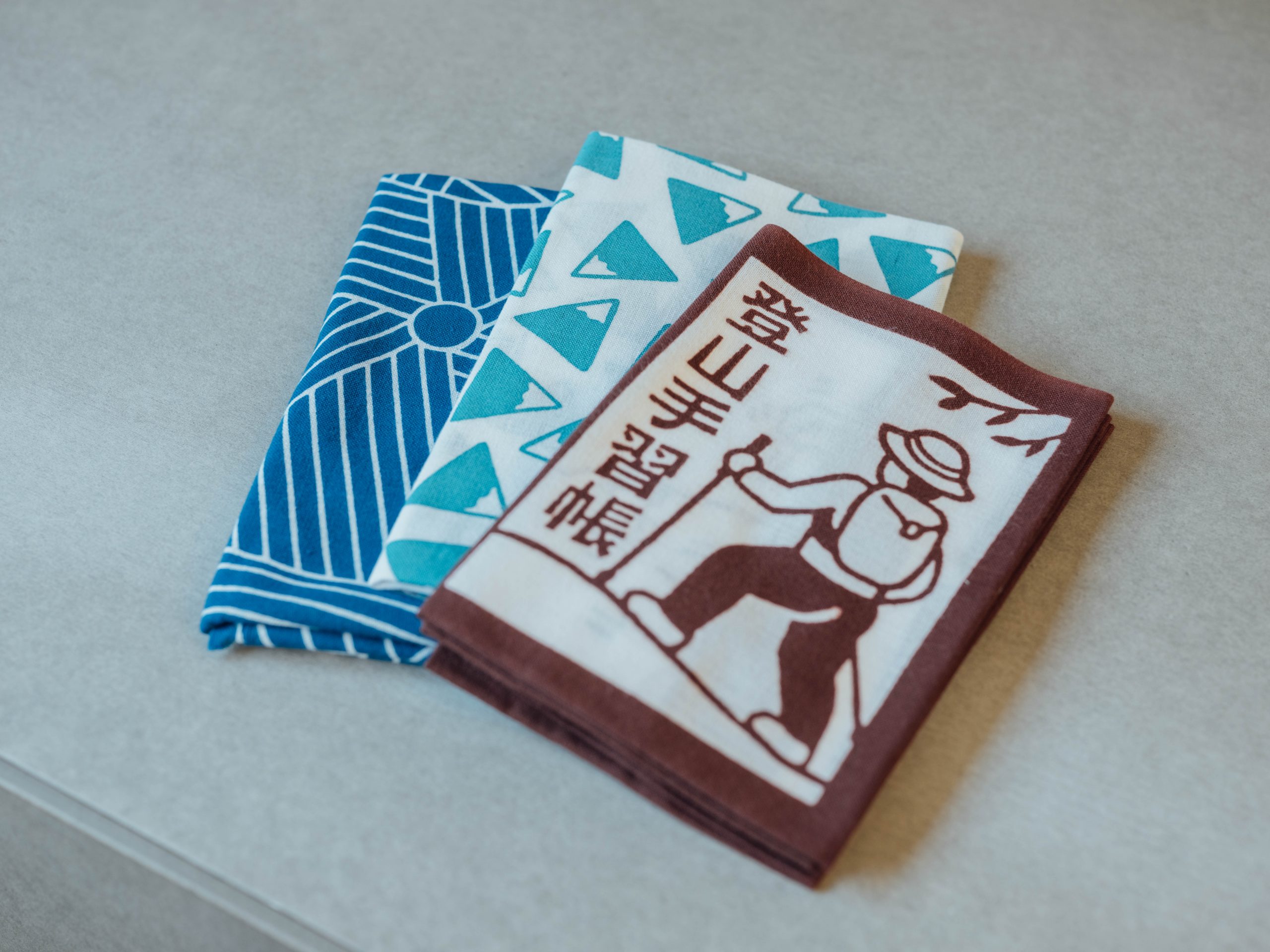 Mihoko Mori
Mori is the designer and executive officer of the brand "and wander." She started out as a member of a collection brand's design team, and became a freelance designer in 2004. Her mountain-walking hobby turned into her job in 2011, when she launched the outdoor brand "and wander" with her former colleague, Keita Ikeuchi. She loves outdoor life, going trekking on long trails in and outside Japan in summer and skiing in winter.
Planned and produced by Aiko Yaguchi(NON-GRID.Inc)
Photographs by Kohei Yamamoto
Interviewed by Tomoko Yanagisawa